General Information and Facilities: METU-NCC was established in 2003 with an expressly international mission and profile. Our university serves to Mediterranean, Middle East, Europe and Eurasian region.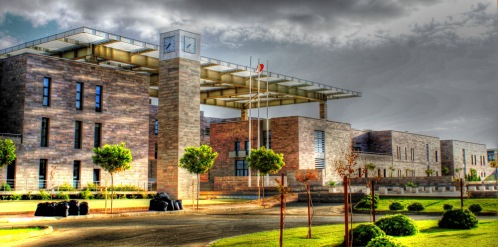 METU-NCC is built on an area of 339 hectares (137 acres), approximately 50 km west of Lefkosa (Nicosia ) and 6 km north of Guzelyurt (Morphou), a charming town with a population of 12,000. Today, METU-NCC is an outstanding campus with its high-tech infrastructure, modern education buildings and laboratories, the Cultural and Convention Center, Administration - Library - IT Center Complex, Cafeteria, Shopping Center, Student Association Rooms, Dormitories, Staff Housing, Fitness-Wellness Club, Post Office, Book Store, Health & Counseling Center, Sports Complex, and an outdoor swimming pool. The Campus is designed with all the necessary provisions to accommodate physically handicapped students/staff to achieve their full potential. The video and virtual tours of our campus, Culture & Convention Center, School of Foreign Languages, academic blocks, library, dormitories, Sports Center, Science & Technology Center and cafeteria are available at the following web-page:
Virtual tours: http://www.kkk.odtu.edu.tr/metuDemo/EN/virtualtour.html
Video: http://www.kkk.odtu.edu.tr/MetuNcc-video/
Our Culture and Convention Center is a trademark glass, marble and steel building that houses four state-of-the-art amphitheaters (two large halls with 600 and 250 seats, and two medium sized halls with 120 seats each), eight seminar rooms (with 60 seats each) and a picturesque lobby. It occupies a total of 5200 square meters of meeting space. Convention Center is a preeminent setting for any event such as conferences, concerts, exhibitions, theaters, cocktails and fairs.
North Cyprus
"North Cyprus is the Med's best kept secret: Loved for its slow pace of life, value for money and delightful village-feel, it combines beautiful bays and enchanting sights with a sunny climate all year round, making it an ideal get-away for every season. Located at the crossroads of three continents and just 40 miles from Turkey, North Cyprus is bursting with intriguing antiquity and a rich cultural history. The North Cyprus coastline is astonishingly beautiful with its ancient harbors where you can dine al-fresco and beaches that stretch for miles, whilst the depths of the crystal-clear azure seas offers many of the region's best dive sites. A labyrinth of craft shops, ancient sites and family-owned restaurants await exploration in North Cyprus' vibrant towns, whilst idyllic scenery and ancient rustic villages gently dot the countryside. Read more on North Cyprus' geography, climate, history, population, wildlife, and culture.
How to get to North Cyprus ?
By Air: There are several airlines that fly to North Cyprus from Turkey; Cyprus Turkish Airlines, Turkish Airlines, Atlas Jet and Pegasus (Fly air) Airlines. These airlines provide regular daily flights to Ercan-International Airport (airport code: ECN) in North Cyprus. E-Tickets to Ercan Airport can also be purchased conveniently from well known web-based travel agencies (such as www.expedia.com, www.opodo.co.uk, www.lastminute.com, etc.). Due to international requirements, all flights into North Cyprus (Ercan Airport) have to touch down, in transit, at an airport in Turkey (Istanbul, Izmir, Antalya or Dalaman). The stop-over is about 30-45 minutes and there is usually no change of aircraft. Luggage will be checked in straight through to Ercan airport. From Ercan Airport to our campus and to other major cities there is a shuttle service that provides transportation 7 days a week.
Transport to METU-NCC from Ercan Airport: http://www.ncc.metu.edu.tr/clife/transport.php
By Boat:
There is a ferry boat linking between Tasucu and Girne (Kyrenia) during all seasons and a new boat link has been established during the peak season between Alanya, Antalya and Anamur to Girne (Kyrenia). You are advised to reserve your places before departure.
VISA
The citizens of European Union (EU) nations, Turkey, USA, Canada, Mexico, Israel, Japan, Singapore, Switzerland, Iceland, Norway, Australia, New Zealand do not require visa. All other nationals should check their position with regard to passports and visas with the nearest Embassy or Office of Representative of the Turkish Republic of Northern Cyprus. Visitors who do not wish to have their passports stamped by the authorities on arrival in North Cyprus may request a stamped visa form which is loosely inserted into the passport and removed on departure. For further information about North Cyprus and regarding visa requirements, please contact the nearest North Cyprus Embassy or Representative Office abroad.
Climate
North Cyprus is blessed with seemingly endless sunshine and enjoys one of the healthiest climates in the world. The average annual temperature is about 20C /68F. Summers are hot with July and August averaging over 30C / 90F. The coldest months are January and February with a mean temperature of 10C / 50F. The sea temperature is the warmest in the Mediterranean, ranging from a mean average of about 16C / 61F in January, to 32C / 90F in August.
Traffic & Driving
Traffic in North Cyprus circulates on the left, as in Britain, and the traffic signs are international, with good dual carriageways connections between major towns.
Currency & Credit Cards
The unit of currency in North Cyprus is New Turkish Lira (YTL). The approximate exchange rate fluctuates daily, so it's best to check the rate at the many banks, exchange bureaus or at your hotel before you change your money. Most businesses will also happily accept payments in main foreign currencies such as Euro, Sterling Pound, US Dollars, and Cyprus Pounds. Most major international credit and charge cards are accepted by hotels, restaurants, and shops.
Shopping
Most of the shops are open Mondays to Saturdays from 8:00 am to 1:00 pm and 2:30 pm to 6:30 pm during the summer months. In the winter, they keep the same hours, but do not close at lunchtime. For typical souvenirs of North Cyprus shop for embroidery, Lefkara lacework, rugs, and hand-painted pottery.
Telephone
North Cyprus has excellent telecommunications facilities and continually upgrades its systems. When calling from abroad the code is +90-392 plus the local dialing code plus the local number.The local dialing codes for the main towns are:
Nicosia: 22
Famagusta: 36
Kyrenia: 81
Gzelyurt: 71
Electricity
240 Volts AC , 50 Hz throughout the country. Sockets are the British 3-pin variety.
Time
North Cyprus operates on Eastern European time, which is +2 hours ahead of GMT.