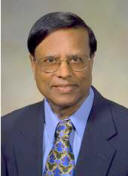 Prof. Dr. Raj Mittra of EMC Lab, Penn State University, USA
Some Non-traditional Approaches to Computational Electromagnetics for Solving a Class of Real-world Antenna and Scattering Problems (abstract)
Raj Mittra is Professor in the Electrical Engineering department of the Pennsylvania State University. He is also the Director of the Electromagnetic Communication Laboratory, which is affiliated with the Communication and Space Sciences Laboratory of the EE Department. Prior to joining Penn State he was a Professor in Electrical and Computer Engineering at the University of Illinois in Urbana Champaign. He is a Life Fellow of the IEEE, a Past-President of AP-S, and he has served as the Editor of the Transactions of the Antennas and Propagation Society. He won the Guggenheim Fellowship Award in 1965, the IEEE Centennial Medal in 1984, the IEEE Millennium medal in 2000, the IEEE/AP-S Distinguished Achievement Award in 2002, the AP-S Chen-To Tai Distinguished Educator Award in 2004 and the IEEE Electromagnetics Award in 2006. He has been a Visiting Professor at Oxford University, Oxford, England and at the Technical University of Denmark, Lyngby, Denmark. He has also served as the North American editor of the journal AE‹.
His professional interests include the areas of Communication Antenna Design, RF circuits, computational electromagnetics, electromagnetic modeling and simulation of electronic packages, EMC analysis, radar scattering, frequency selective surfaces, microwave and millimeter wave integrated circuits, and satellite antennas.
He has published about 1000 journal and symposium papers and more than 40 books or book chapters on various topics related to electromagnetics, antennas, microwaves and electronic packaging. He also has three patents on communication antennas to his credit. He has supervised over 100 Ph.D. theses, about 90 M.S. theses, and has mentored more than 50 postdocs and Visiting scholars. He has directed, as well as lectured in, numerous short courses on Computational Electromagnetics, Electronic Packaging, Wireless antennas and Metamaterials, both nationally and internationally.